Logo
Our new logo represents what clients and partners told us they believe about Alpha. The shield-like shape communicates vigilance in protecting their interests. The arrow signals strategic forward movement. It's an emblem of our commitment to working the Alpha Way.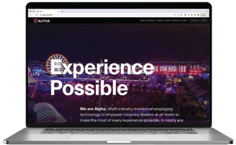 AlphaX.us
AlphaThe X in Alpha's new URL stands for the experiences we deliver. X is a multiplier and an accelerator. Not least, it evokes the "X factor" that separates the great from the good.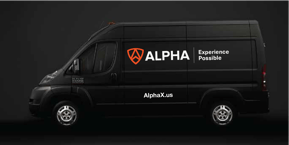 Look and Feel
Communicating energy, strength and creativity, our colors come together with a simplicity and boldness that is confident without being arrogant. You'll see them at very touchpoint, from vehicles to signage.

Name Change
Call us Alpha. We dropped the word "Video" from our name because today our expertise extends so far beyond a single technology that the old name was no longer true to who we are.